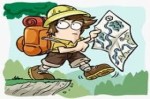 The Canary Islands have been called and not by much fewer calls are a small miniature continent , and it is true , Gran Canaria , where we stand is a paradise in its entirety and is therefore the place par excellence where larger flock hundreds or thousands of travelers throughout the year to enjoy our beaches , excellent and rich gastonomia and a unique climate makes winter season in full can enjoy sun, sand and beaches.
As we organize our website informs you travel routes , walks and visits to be undertaken by our Island to various municipalities as well as , photos , ideas ….
Currently , only comment the new experience awaits them .
Nothing short of a journey – a camping Gu Gui – gui -guy or as the locals and tell them you have to respect .
Actually, I 've never gone and no doubt always I 've raised to over the past 25 years living in my beloved Gran Canaria , but , for various reasons I've never been able to realize , as will be the first time you go , ire by boat to the port of Mogan a go to to inform me of a ship to perform the voyage or ire at port Village to see if one goes from there.
Because when someone you spoke of this corner of the island think is nothing short of paradise, and of course it is, but when your expectations are so high and you have to do i propose.

But I sincerely believe this is more impressive crossing going on foot, that 's how truly appreciate its beauty .
Since Gui – gui , at least for me , is not only the beach but a set of things: the canyon, views, vegetation, animals, a remote site where the " disconnect" from the usual noises of cities and peoples.
By the time I leave for information purposes of a video which can observe a crossing -Gui Travel Guii been made .
Enjoy the journey